CHC50121 - Diploma of Early Childhood Education and Care (Traineeship/RPL)
This qualification reflects the role of early childhood educators who are responsible for designing and implementing curriculum in early childhood education and care services. In doing so they work to implement an approved learning framework within the requirements of the Education and Care Services National Regulations and the National Quality Standard. They may have responsibility for supervision of volunteers or other staff.
---
Fast, Easy Enrolment with No Waiting Lists
Choose from a Range of Flexible Study Options
Expert Trainers with Industry Experience
---
Childcare Course Outline
Learners within this Diploma of Childcare course will use gap training and assessments to gain qualification.
These include:
Evidence Gathering
Competency Conversation
Challenge Tasks
Direct observations in work environments
Referee Reports
Register your Interest
One of our team members will get back to you shortly to discuss your Childcare training needs.
Childcare Course Details
| | |
| --- | --- |
| Course Code | Course Name |
| CHC50121 | Diploma of Early Childhood Education and Care (Traineeship - RPL) |
| Course Duration | Work Experience |
| Approximately 6 - 12 months | Required |
| Delivery Method | Course Dates |
| Workplace and online | Rolling Intakes |
Childcare Skills Gained
Throughout this Diploma of Childcare course you will gain several skills including the:
Establish and implement plans for developing cooperative behaviour
Nuture children's creativity
Promote children agencies and their benefits
Sustainability practices
How to estabilsh and maintain a safe and healthy environment
Design, analyse and implement curriculum
Facilitate compliance
Lead the work team
Learn strategies for inclusion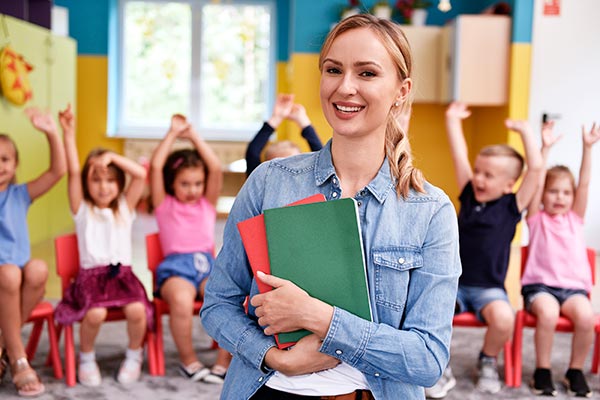 Diploma Childcare (Traineeship/RPL) Fee Details

| | |
| --- | --- |
| Concession | $400.00* |
| Non-Concession | $1200.00* |
| Fee for service | $7,500.00 |

Payment Options:

Fees are invoiced at the commencement of each unit of study throughout the qualification
The entire course fee can be payable upon commencement of the course
With prior approval a payment arrangement can be negotiated with the student
In certain circumstances a fee waiver under severe financial hardship can be requested, however all fee waivers must be in accordance with the vet fees and charges policy.




Other fees & charges

Student Resource Fees - NIL
Student Textbooks - NIL
Assessment marking/remarking - NIL
Campus Fees - NIL
Certificate Issuance - NIL
Certificate Issuance – NIL




1 Persons and dependants of persons holding: A pensioner Concession Card, A Repatriation Health Benefits Card issued by the department of Veterans' Affairs; or A Health Care Card. Persons and dependants of persons in receipt of services from the following Commonwealth support or employment services programs: Job Active, Online Employment services or. ParentsNext. Persons and dependents of person in receipt of AUSTUDY or ABSTUDY. Person and dependants of person in receipt of Youth Allowance. Persons and dependants of persons who are inmates of a custodial institution. Secondary school aged persons, not enrolled at school

Core

BSBTWK502 - Manage team effectiveness
CHCECE042 - Foster holistic early childhood learning, development and wellbeing
CHCECE043 - Nurture creativity in children
CHCECE044 - Facilitate compliance in a children's education and care service
CHCECE045 - Foster positive and respectful interactions and behaviour in children
CHCECE046 - Implement strategies for the inclusion of all children
CHCECE047 - Analyse information to inform children's learning
CHCECE048 - Plan and implement children's education and care curriculum
CHCECE049 - Embed environmental responsibility in service operations
CHCECE050 - Work in partnership with children's families
CHCPRP003 - Reflect on and improve own professional practice

Electives

CHCECE051 - Promote equity in access to the service
CHCECE052 - Plan service and supports for children and families
CHCECE053 - Respond to grievances and complaints about the service

Potential Job Roles




Completing this Diploma of Childcare will open many doors in terms of career opportunities whether this be in an childcare centre all over Australia or working in a pre-school or before and after school care. This course will equip you with the knowledge you need to succeed and grow in these roles.

Work Within:

Childcare Centres
Pre-Schools
Before and After school cares

Pre-requisite/Entry Requirements

Entry to this qualification is open to individuals who:

Hold a CHC30121 Certificate III in Early Childhood Education and Care or
CHC30113 Certificate III in Early Childhood Education and Care

Students enrolling into the course must demonstrate that they:

Are at least 15 years of age
No longer at secondary school; except SBAT traineeship enrolments
An Australian Citizen or eligible visa holder
A resident of WA
Can dedicate the time and effort required to successfully complete the diploma qualification whilst undertaking full time employment
Hold suitable language, literacy and numeracy skills for completing diploma level studies
Hold completion of WACE General or ATAR (Minimum Grade C) or equivalent
Are employed on a part-time or fulltime basis undertaking a minimum 15 hours a week
Been working in childcare for a minimum of 2 years
Entry Requirements
You must have with suitable skills in language, numeracy and literacy for a Diploma level course. See more information https://www.aqf.edu.au/aqf-levels
Additional Awareness Courses
Additionally, Training Unlimited offer personal development modules. We have a comprehensive range of Online Short Courses to extend your skills, that you can study from work or home to gain a same day non-accredited certificate.