SIT30616 - Certificate III in Hospitality
If you are seeking further development of your knowledge and skills, and/or seeking management roles within the organisation, enrolling in Cert 3 in Hospitality is the right qualification for you. This Cert 3 Hospitality qualification reflects the role of skilled operators who use a range of well-developed hospitality skills. Begin your journey with Cert 3 Hospitality.
---
Fast, Easy Enrolment with No Waiting Lists
Choose from a Range of Flexible Study Options
Expert Trainers with Industry Experience
---
Hospitality Traineeship Outline
Learners within this Cert 3 Hospitality Traineeship, employees will undertake their learning and assessments in a mixed mode delivery method.
These include:
Minimum 12-month program
Workshop based assessments
Training & assessment sessions at your workplace every 6-8 weeks
Must complete a minimum of 36 work shifts prior to completion
Undertake workplace-based learning, practical, assessments & direct observations
Minimum of 15 hours per week
Register your Interest
One of our team members will get back to you shortly to discuss your Hospitality training needs.
Aged Care Course Details
| | |
| --- | --- |
| Course Code | Course Name |
| SIT30616 | Certificate III in Hospitality |
| Course Duration | Work Experience |
| 12 months | Not Required |
| Delivery Method | Course Dates |
| Classroom & Online | Rolling Intakes |
Hospitality Skills Gained
Following safe work practices
Working efficiently in hospitality and customer service
Working with diverse people
Source and use information
Coaching others in job skills
Cleaning premises and equipment
Selling to retail customers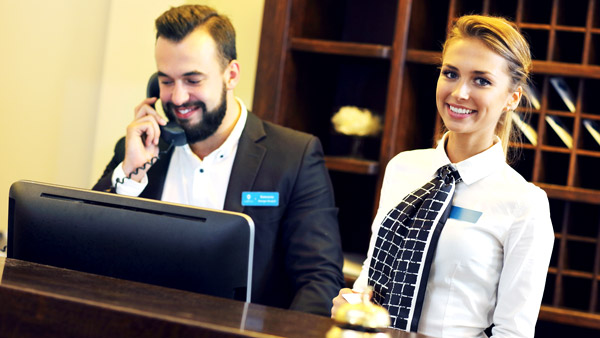 Core

BSBWOR203 - Work effectively with others
SITHIND002 - Source and use information on the hospitality industry
SITHIND004 - Work effectively in hospitality service
SITXCCS006 - Provide service to customers
SITXCOM002 - Show social and cultural sensitivity
SITXHRM001 - Coach others in job skills
SITXWHS001 - Participate in safe work practices

Elective

SITXFSA001 - Use hygienic practices for food safety
SITHACS001 - Clean premises and equipment
SIRXSLS001 - Sell to the retail customer
SIRXPDK001 - Advise on products and services
SITXFIN001 - Process financial transactions
SITXFSA002 - Participate in safe food handling practices
BSBCMM201 - Communicate in the workplace
SITXWHS002 - Identify hazards, assess and control safety risks

Potential Job Roles

Management Roles
Waiter/Waitress
Executive Chef
Event Planner

Why complete a Traineeship?

Traineeships rough a structured program of onsite work experience giving you the tools to succeed in the real world.

Training Unlimited assists all students with securing work placement with our strong network of host employers. We also encourage our students to actively pursue finding their own work placement opportunities which provides additional experience when it comes to job searching later in their careers.

Minimum Work Placement Requirement

This Certificate III requires a minumum of 160 Hours of suitable workplacement.
Entry Requirements
You must have with suitable skills in language, numeracy and literacy for a Cert 3 level course. See more information https://www.aqf.edu.au/aqf-levels
Additional Awareness Courses
Additionally, Training Unlimited offer personal development modules in health to help people gain a greater understanding of healthcare. We have a comprehensive range of Online Health Care Courses to extend your skills, that you can study from work or home to gain a same day non-accredited certificate.