CHC30121 Certificate III In Early Childhood Education And Care
Kickstart your career in childcare with a Cert 3 Childcare. Learn all the essential knowledge you need to provide the apporpriate care and implement the right development tools for children. Gain an understanding of effective interaction and communication methods with children of all ages including, babies, toddlers and children. Be prepared with suitable work health and safety knowledge, nutrional tips and a childcare first aid competency. Childcare workers are always needed and undoubtedly help shape the future through the development and care of children within their most influential years.
---
Fast, Easy Enrolment with No Waiting Lists
Choose from a Range of Flexible Study Options
Expert Trainers with Industry Experience
---
Childcare Course Outline
Learners within this Cert 3 Childcare course will undertake their learning and assessments in a mixed mode delivery method.
These include:
2.50 days a week (Wednesday, Thursday & ½ day Friday) for 27 weeks.
4 weeks of work placement with training blocks
Group support sessions per month
Workplace assessments & observations
4 weeks of mandatory work placement
Register your Interest
One of our team members will get back to you shortly to discuss your Childcare training needs.
Childcare Course Details
| | |
| --- | --- |
| Course Code | Course Name |
| CHC30121 | Certificate III in Early Education and Care |
| Course Duration | Work Experience |
| 31 Weeks | Not Required |
| Delivery Method | Course Dates |
| Classroom & Online | 2nd February 2022 - 5th September 2022 |
Childcare Skills Gained
Throughout this course you will gain several skills including the:
How to follow safe work practices
Working ethically and legally, whilst working with a diverse range of people
Provide emergency first aid response in an education and childcare setting
Provide childcare for children, babies and toddlers
How to support the holistic development of a child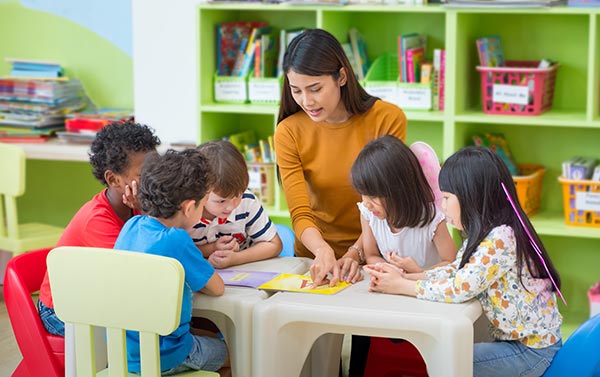 Cert 3 Childcare (Part Time) Fee Details

| | |
| --- | --- |
| Concession | $400.00* |
| Non Concession | $1,200.00* |
| Fee for service | $3,200.00 |

Payment Options:

Fees are invoiced at the commencement of each unit of study throughout the qualification
The entire course fee can be payable upon commencement of the course
With prior approval a payment arrangement can be negotiated with the student
In certain circumstances a fee waiver under severe financial hardship can be requested, however all fee waivers must be in accordance with the vet fees and charges policy.

Other fees & charges

Student Resource Fees - NIL
Student Textbooks - NIL
Assessment marking/remarking - NIL
Campus Fees - NIL
Certificate Issuance - NIL
Certificate Issuance – NIL

1 Persons and dependants of persons holding: A pensioner Concession Card, A Repatriation Health Benefits Card issued by the department of Veterans' Affairs; or A Health Care Card. Persons and dependants of persons in receipt of services from the following Commonwealth support or employment services programs: Job Active, Online Employment services or. ParentsNext. Persons and dependents of person in receipt of AUSTUDY or ABSTUDY. Person and dependants of person in receipt of Youth Allowance. Persons and dependants of persons who are inmates of a custodial institution. Secondary school aged persons, not enrolled at school

Core

CHCLEG001 - Work legally and ethically
HLTWHS001 - Paticpate in worplace health and safety
CHCDIV002 - Promote Aboriginal and/or Torres Strait Islander cultural safety
CHCECE001 - Develop cultural competence
CHCECE002 - Ensure the health and safety of children
CHCECE003 - Provide care for children
CHCECE004 - Promote and provide healthy food and drinks
CHCECE005 - Provide care for babies and toddlers
CHCECE007 - Develop positive and respectful relationships with children
CHCECE009 - Use an approved learning framework to guide practice
CHCECE010 - Support the holistic development of children in early childhood
CHCECE011 - Provide experiences to support children's play and learning
CHCECE013 - Use information about children to inform practice
CHCPRT001 - Identify and respond to children and young people at risk
HLTAID004 - Provide an emergency first aid response in an education and care setting

Elective

CHCECE026 - Work in partnership with families to provide apporpriate education and care for children
CHCDIV001 - Work with diverse people
CHCECE006 - Support behaviour of children and young people

Potential Job Roles




Completing this certificate III will open many doors in terms of career opportunities whether this be in an childcare centre all over Australia or working in a pre-school or before and after care. This course will be sured to equip you with the knowledge you need to succeed and grow in these roles.

Work Within:

Childcare Centres
Pre-Schools
Before and After school cares

What is Work Placement?

Work placement employs practical learning through a structured program of onsite work experience giving you the tools to succeed in the real world.

Training Unlimited assists all students with securing work placement with our strong network of host employers. We also encourage our students to actively pursue finding their own work placement opportunities which provides additional experience when it comes to job searching later in their careers.

Minimum Work Placement Requirement

This Certificate III requires a minumum of 160 Hours of suitable workplacement.
Entry Requirements
You must at least 18 years old with suitable skills in language, numeracy and literacy for a Cert 3 level course. See more information https://www.aqf.edu.au/aqf-levels
Additional Awareness Courses
Additionally, Training Unlimited offer personal development modules. We have a comprehensive range of Online Short Courses to extend your skills, that you can study from work or home to gain a same day non-accredited certificate.